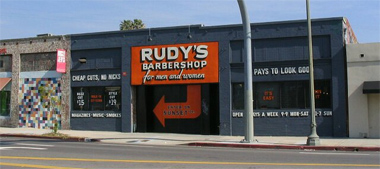 Got a haircut today! Thank GOD! My hair was looking pretty nappy. I don't think I even realized how long it was until a few days ago. Basically the cut is a heavy bang with choppy layers. 4 inches were cut in my length so now its right below my shoulders.
This place was recommended to me through a couple of friends (both with good looking hair). Its funny but I've passed by this shop numerous times and never really gave it a second thought. My optometrist is literally right next door. Anyway...they don't take appts. so the wait can be extremely long. I was prepared with a book when I showed up. Good thing because I waited for 2 hours to get my haircut. If I didn't have my book, there was a lot there to keep me busy. There are a number of magazines and newspapers to peruse, the music and ambience is very cool and there are usually enough people around that you can do a great deal of people watching.
I definitely recommend this place. Its in Silverlake on 4451 Sunset Drive. Katty corner from the Vista Theatre.